The innovation of dental implants has significantly transformed dentistry, providing a dependable and durable option for replacing teeth. However, with that being said, patients must still critically evaluate the financial implications of their dental implants before proceeding with this life-changing process.
Gaining insight into the various elements that impact dental implant prices and cost-effectiveness is therefore crucial in making educated choices concerning your oral health and aesthetics.
Dental Implant Basics
Before discussing the specifics of dental implant expenses, it's essential to comprehend what dental implants are.
Dental implants are synthetic tooth roots crafted from biocompatible substances like titanium or zirconia. These are surgically placed into the jawbone to offer a robust base for artificial teeth, such as crowns, bridges, or dentures.
Dental implants offer several advantages, including superior durability, improved aesthetics, and the ability to restore natural chewing and speaking functions. These benefits make them a preferred choice for individuals seeking a long-term solution to missing teeth.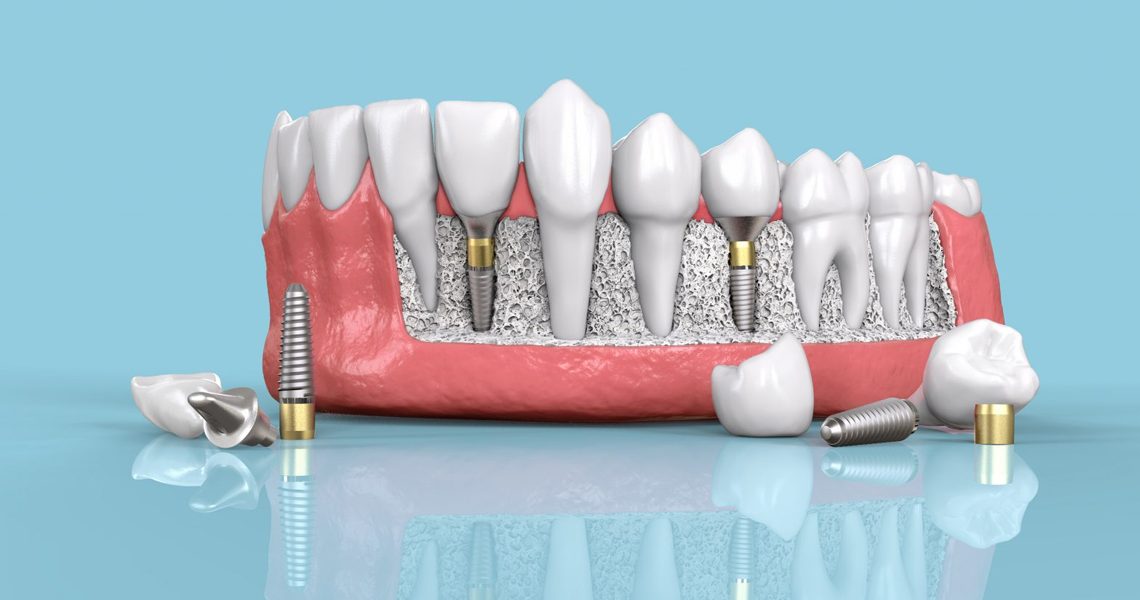 Breaking Down the Costs
The cost of dental implants comprises various components, including:
Consultation Fees
The process typically begins with a consultation with a dental implant specialist. During this initial appointment, the dentist assesses the patient's oral health, discusses treatment options, and develops a customized treatment plan.
Consultation fees may vary depending on the expertise of the specialist and the complexity of the case.
Surgical Costs
The surgical phase involves the placement of the dental implant into the jawbone. This procedure requires precision and expertise, which can impact the cost. Factors such as the number of implants, the need for bone grafts or sinus lifts, and the type of anesthesia used can all influence surgical costs.
Prosthesis Expenses
After the implants have integrated with the jawbone, prosthetic teeth are attached to the implants to restore functionality and aesthetics. The type of prosthetic teeth chosen, whether it's a single crown, a bridge, or an entire arch of dentures, will affect the overall cost.
It's essential to obtain a detailed cost estimate from your dental implant specialist, as this will help you understand the breakdown of expenses and make an informed decision regarding your treatment plan.
Geographic Location
The cost of dental implants can also vary significantly based on the geographic location of the dental practice. Urban centers such as Toronto may have higher costs due to the higher cost of living and overhead expenses for dental practices, while on the other hand, smaller towns or rural areas may offer more competitive prices.
To get an accurate estimate of dental implant costs in your area, it's advisable to consult with multiple dental practices and compare their prices. Keep in mind that while cost is a crucial factor, the quality of care and expertise of the dental team should also be considered.
Type of Dental Implant
The type of dental implant you choose can have a significant impact on the overall cost of your treatment. Dental implants come in various forms, including:
Single Tooth Implants: These are used to replace individual missing teeth.
Multiple Implants: When several teeth are missing in different areas of the mouth.
Full Arch Implants: Used to replace an entire arch of teeth, typically for those who have lost most or all of their teeth.
The more extensive the treatment area, the higher the cost, as it may require more implants and prosthetic teeth. Your dental implant specialist will discuss how much is one teeth implant, along with the most suitable option for your specific case, and provide a cost estimate accordingly.
Material Choice
Another factor that affects the cost of dental implants is the choice of materials.
Most commonly, dental implants are made from titanium, known for its biocompatibility and durability. However, there's also the option of zirconia implants, which are known for their excellent aesthetics and natural appearance.
Titanium implants are generally more cost-effective, while zirconia implants tend to be more expensive. Patients may also opt for zirconia implants for their front teeth, where aesthetics are a top priority. Your dentist will help you weigh the pros and cons of each material and determine the most suitable choice based on your needs and budget.
Additional Procedures
In some cases, patients may require additional procedures before or during the dental implant placement process. These procedures can include:
Bone Grafts: When the jawbone lacks sufficient density or volume to support dental implants, bone grafts may be necessary to augment the bone.
Sinus Lifts: For implants in the upper jaw, a sinus lift procedure may be required to create adequate space for the implants.
Extraction of Remaining Teeth: If there are remaining damaged teeth in the treatment area, they may need to be extracted before implant placement.
These additional procedures can significantly impact the average cost of dental implants, especially when considering for your budget how expensive are dental implants. It's crucial to discuss these potential requirements with your dental implant specialist during the initial consultation and consider them when reviewing how much do implants cost and budgeting for your treatment.
Quality of Dental Care
The expertise and qualifications of your dental care team can also influence the cost of dental implants. Choosing a skilled and experienced dental implant specialist is therefore essential for the success of your treatment.
While experienced professionals may charge higher fees, their expertise can lead to more predictable and successful outcomes. It's essential not to compromise on the quality of care to save on costs with cheap implants, as a poorly executed implant procedure may result in complications and additional expenses down the line.
Research the credentials and reputation of your chosen dental implant specialist to ensure you receive high-quality care.
Insurance Coverage and Financing
Dental insurance coverage for dental implant procedures varies widely among providers and plans - while some insurance plans may partially cover the cost of dental implants, others may not cover them at all.
When examining how much do oral implants cost, it's crucial to review your insurance policy and discuss coverage details with your insurer before proceeding with treatment.
Additionally, many dental practices offer financing options to make dental implants more accessible to patients. These financing plans allow patients to spread the cost of how much is for a tooth implant over time, making it more manageable.
Dental Implants at Markham Smile Centre
At Markham Smile Centre, we understand that the cost of dental implants is a significant consideration for our patients. That's why we're committed to providing high-quality dental implant solutions at competitive prices.
Our experienced team of dental professionals will work closely with you to develop a personalized treatment plan that suits your needs and budget. We also offer a range of dental implant options, including single-tooth implants, multiple implants, and full arch implants.
All in all, dental transplant costs are influenced by various factors, including geographic location, types of dental implant costs, material choices, additional procedures, and the quality of dental care. Patients should prioritize their oral health and aesthetics, while also considering their budget, the cost of dental implants in Ontario, and insurance coverage.
By consulting with a reputable dental implant specialist and obtaining a detailed cost estimate regarding their best price for dental implants, patients can make informed decisions and embark on their journey to a confident and beautiful smile.
If you have any questions about dental implants prices or would like to schedule a consultation, contact Markham Smile Centre. We're here to help you achieve a healthy and radiant smile that lasts a lifetime.